Cedar Village IGA
Recipes
https://cedarvillage.iga.com/Recipes/Detail/3746/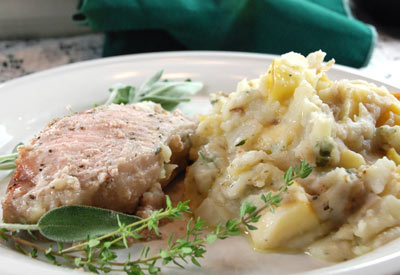 Irish Pork Chops (or tenderloin) with Potato Stuffing
Yield: Serves 6
Ingredients
Potato Stuffing:
4 1/2
cups
coarsely mashed potatoes

1/4
cup
butter, softened

1
onion, chopped

2
large cooking apples, chopped

1
small handful chopped fresh sage

1
small handful chopped fresh thyme

Salt to taste

Pepper to taste

Meat:
6-8
boneless lean pork chops OR 2 lbs pork tenderloin

2
Tablespoons
butter, softened

Salt to taste

Pepper to taste

2
Tablespoons
apple cider, apple wine or water
Directions:
Preheat oven to 350 degrees F.

To prepare stuffing:
To mashed potatoes, add butter, onion, apple, sage, thyme, salt and pepper. Mix well.

To prepare meat:
Rub pork with butter, salt and pepper.

Pour cider or water into 3- quart casserole dish. Scoop potatoes into casserole dish. Place meat along edges of dish on top of the potatoes. Cover loosely with foil and bake 45 minutes. Remove foil and bake 15 minutes longer. Remove from oven and serve hot. Garnish each plate with a sprig of fresh sage and thyme.
Photo and food styling by Webstop
Please note that some ingredients and brands may not be available in every store.
Cedar Village IGA Recipes
https://cedarvillage.iga.com/Recipes/Detail/3746/