Cedar Village IGA
Recipes
https://cedarvillage.iga.com/Recipes/Detail/5729/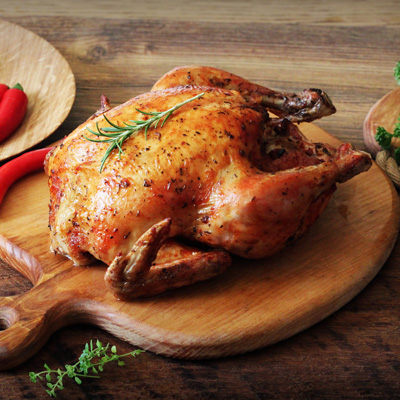 Butter and Herb Roasted Chicken
Yield: Serves 5 to 6 allowing for leftovers
Ingredients
5 to
7-1/2 lb.
roasting chicken

1/4
cup
butter or margarine, softened

2
Tablespoons
fresh parsley, chopped

1/2
teaspoon
dried sage

1
teaspoon
dried rosemary

1/2
teaspoon
dried thyme

1
clove
garlic, minced

salt, to taste

pepper, to taste
Directions:
Heat oven to 350° F. Combine butter, parsley, sage, rosemary, thyme, garlic, salt and pepper. Secure wings to the body of the chicken. Rub chicken with butter mixture.

Place chicken, breast side up, in a shallow roasting pan. Place in oven and roast for 2-2 1/2 hours or until meat thermometer reads 165° F. Allow to rest for 20 minutes before carving.
Please note that some ingredients and brands may not be available in every store.
Cedar Village IGA Recipes
https://cedarvillage.iga.com/Recipes/Detail/5729/