Cedar Village IGA
Recipes
https://cedarvillage.iga.com/Recipes/Detail/6436/Mediterranean_Salmon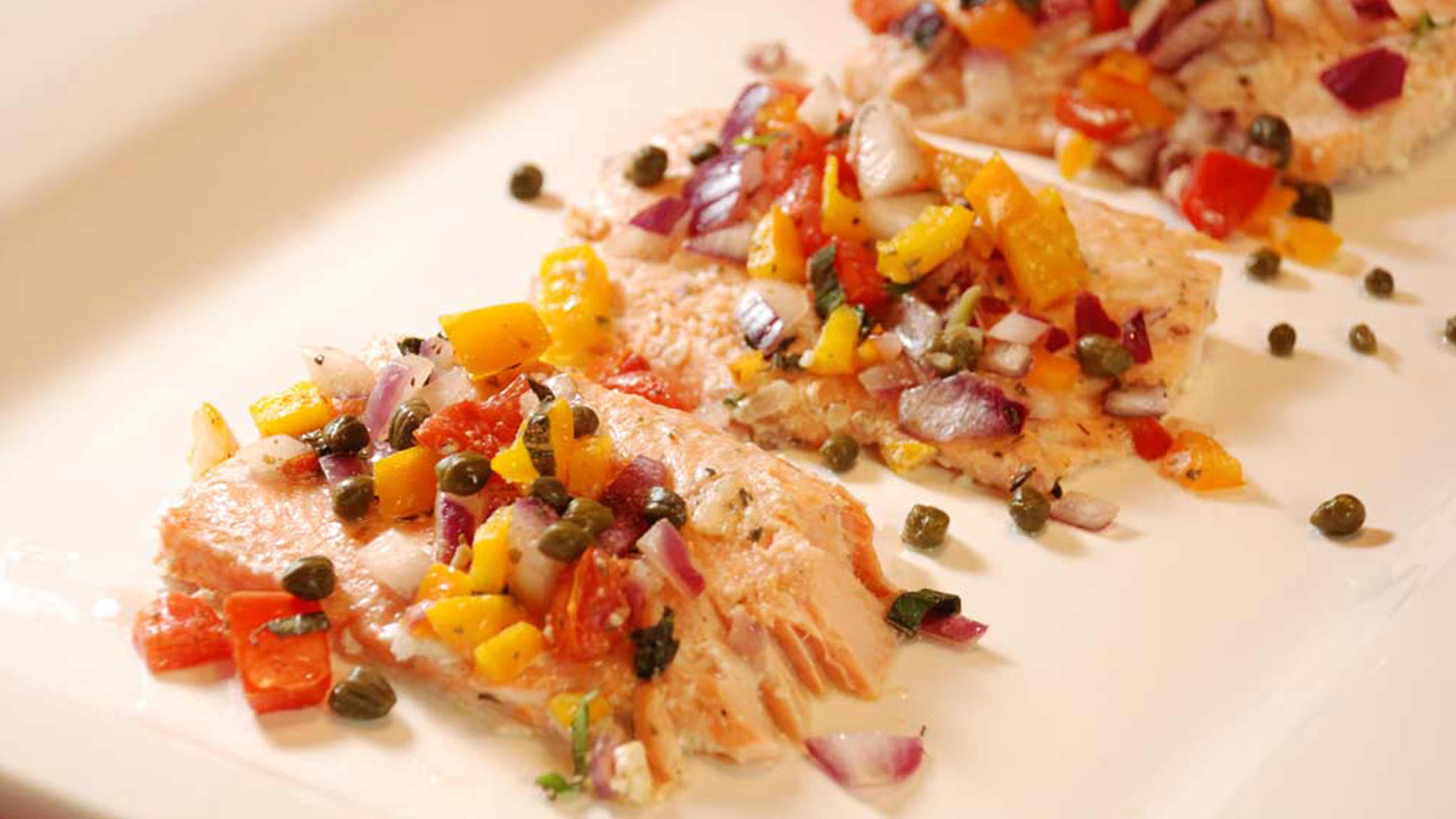 Mediterranean Salmon
Yield: Servings vary
Ingredients
For each serving:

Salmon fillet (5 x 5- inch fillet per serving)

Red onion (a palmful per serving)

Yellow or orange bell pepper (a palmful per serving)

Red tomato - preferably Romas, diced (a palmful per serving)

Dry cilantro, dry basil OR dry dill (fresh can be used also) (a couple of shakes per serving)

Italian Blend seasoning (a couple of shakes per serving)

Garlic salt (a couple of shakes per serving)

Optional: Kalamata olives, whole pitted or cut up (just a few to taste)

Optional: Capers (a palmful or to taste per serving)

One 12 x 18- inch piece of aluminum foil (per serving)
Directions:
Create a separate 12 x 18- inch foil pouch for each fillet.

1. Place a fillet on a sheet of aluminum foil that has been sprayed with olive oil.

2. Add a palmful of onion, bell pepper and tomato to the top of each fillet, trying to keep as much as possible on top of the fish.

3. Add a couple of shakes of cilantro, basil or dill and Italian blend seasoning and garlic salt to each.

4. If desired, add cut up or whole Kalamata olives and capers to taste.

5. Close and seal each pouch and place on a hot grill or in a 400 degree oven for 12 to 15 minutes.

6. Open pouch and test for doneness. Salmon is done when meat flakes easily and is evenly colored.

7. Remove from foil pouch and plate.
Please note that some ingredients and brands may not be available in every store.
Cedar Village IGA
Recipes
https://cedarvillage.iga.com/Recipes/Detail/6436/