Cedar Village IGA
Recipes
https://cedarvillage.iga.com/Recipes/Detail/7969/Chicken_Pot_Pies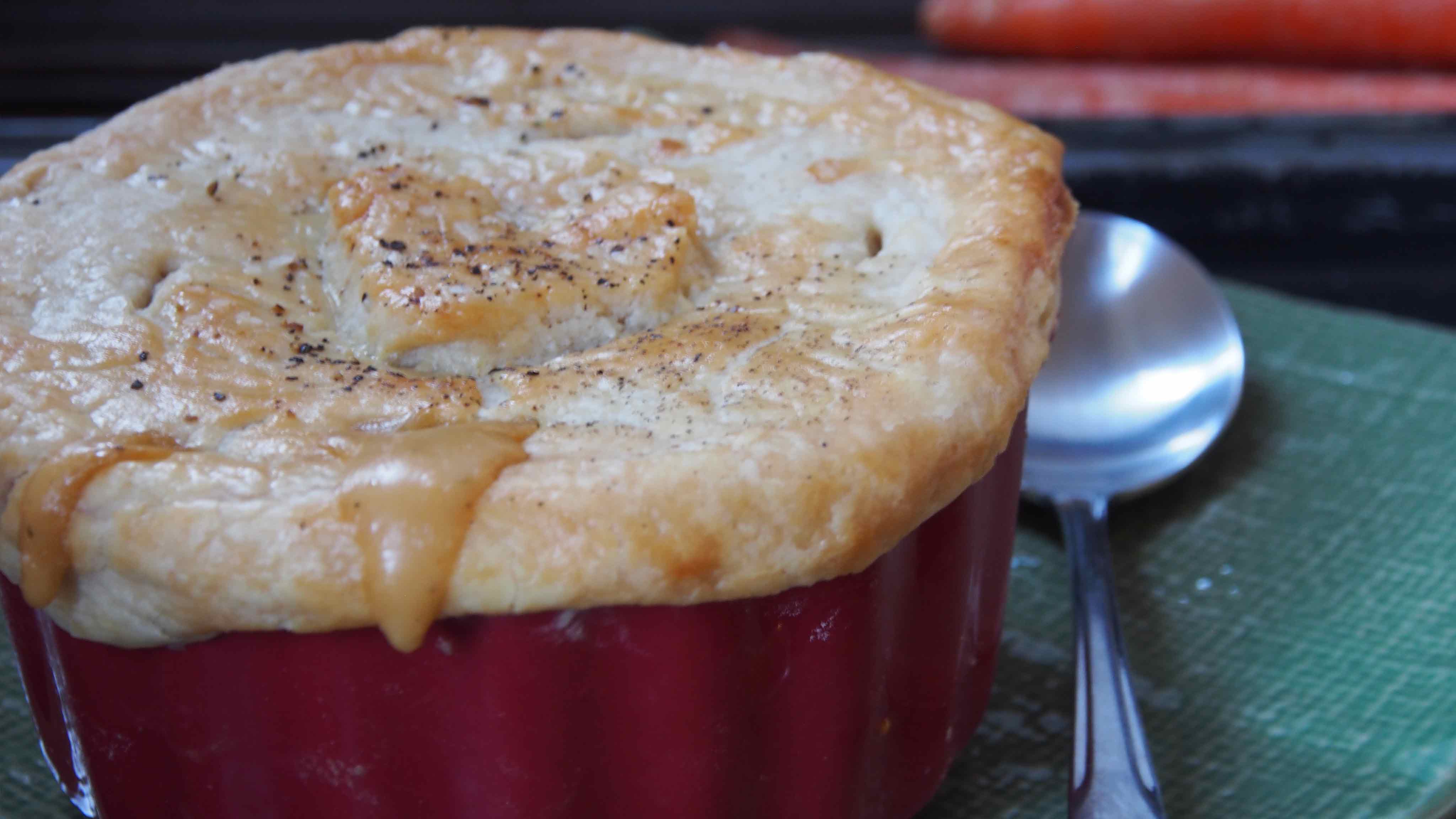 Chicken Pot Pies
Yield: 4 servings
Ingredients
6

chicken breast halves, skin on, boneless

3
Tablespoons

olive oil

Kosher salt

Freshly ground black pepper

5
cups

chicken stock

2
cubes

chicken bouillon

12
Tablespoons

(1 1/2 sticks) unsalted butter

2
cups

yellow onions, chopped (2 onions)

3/4
cup

flour

2
teaspoons

salt

1/2
teaspoon

pepper

1/4
cup

heavy cream

2
cups

carrots, medium dice, blanched

1
package

(10 ounce) frozen peas (2 cups)

1 1/2
cups

frozen pearl onions

1/2
cup

fresh parsley leaves, minced

4

pie crusts OR homemade pastry crust*

1

egg, beaten with 1 Tablespoon water, for egg wash

Sea salt

Cracked black pepper
Directions:
Preheat the oven to 350 degrees F.

Place chicken breasts on a baking sheet and rub with olive oil, sprinkle with salt and pepper and bake for 35 to 40 minutes.

After cooking chicken all the way through, pull from the oven and set aside until cool enough to handle. Remove the skin from the breasts and cut the chicken into large dice.

In a small saucepan, heat the chicken stock and dissolve the bouillon cubes in the stock.

In a separate large pot or Dutch oven, melt the butter and saute the yellow onions over medium-high heat for 6 to 8 minutes or until translucent. Then, add the flour to the large pot and cook over low heat, stirring constantly, for 2 minutes; the onions and flour will form a paste.

Add the hot chicken stock to the paste and simmer over low heat for 1 more minute, stirring, until thick.

Add 2 teaspoons salt, 1/2 teaspoon pepper, and heavy cream.

Add the cubed chicken, carrots, peas, pearl onions and parsley. Mix well.

Preheat oven to 375 degrees F

Divide the filling equally among 4 ovenproof bowls. Cut pastry crust into an 8-inch circle; one for each bowl. To help the dough stick to the bowl, brush the outside edges of each bowl with the egg wash, then place the dough on top. Crimp the dough to fold over the side, pressing dough to make it stick.

After placing dough on each bowl, brush the dough with egg wash and make 3 slits in the top, for each. Then, sprinkle with sea salt and cracked pepper.

Place the Chicken Pot Pies on a baking sheet and bake for 1 hour, or until the top is golden brown and the filling is bubbling hot.

*Use the recipe for Flaky Pastry Crust

Photo and food styling by Webstop
Please note that some ingredients and brands may not be available in every store.
Cedar Village IGA
Recipes
https://cedarvillage.iga.com/Recipes/Detail/7969/